NSP – Nutrition and Stimulation Program
Golf courses:
plant performance for golf playing quality
The golf playing quality of a course requires a great performance of the plant and therefore a good behaviour of substrates. The plant system is subject to important constraints (mowing, game frequencies…) and must meet the requirements of the players. As in any living system, nutrition is at the heart of the good behaviour of grasses. The roots and the whole train of specific microorganisms in the rhizosphere play a crucial role in the nutritional pattern of the plant. Beyond all the supplied nutrients, what must be assessed is the required type of nutrition and biological activation.
Reducing the use of phytosanitary products is another factor compelling greenkeepers to rethink their cropping patterns and consider holistic solutions (variety selection, tillage, nutrition and stimulation).
Sustaining the plant through soil and plant stimulation is the challenge to take if one wishes to meet the players' expectations and societal stakes at one and the same time.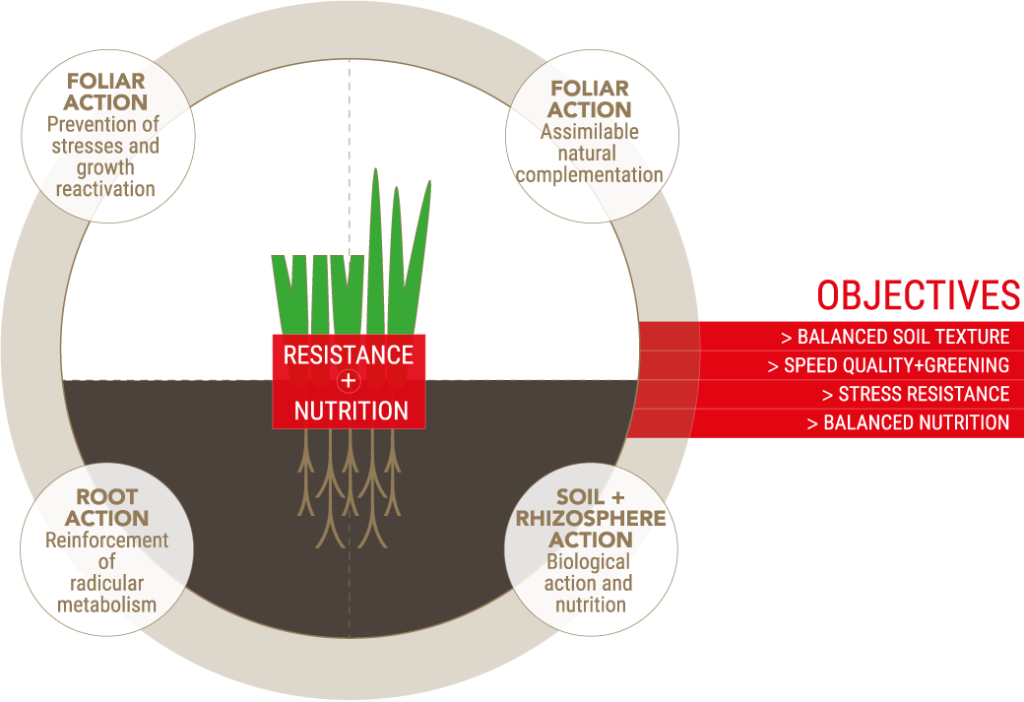 The NSP concept (Nutrition and Stimulation Program) was conceived by Frayssinet research on the complex mechanisms of soil-rhizosphere-plant balance.
Only an approach to the system as a whole allows a complete analysis of the behaviour of this vibrant and dynamic organization.
Centered on plant growth and health, our understanding of fertilization is based on the combination of product specialties and their specific modes of action to meet the needs of users.
NSPs are focused on improving the quality and technical performance of grasses. This objective implies taking into account physical constraints (soil tillage, aeration, drainage, etc.) for the sustainable development of sports fields.
The program is centeredon 3 targeted actions: soil-root-foliar. It recommends the use of products of natural origin (solid organic fertilizers and liquid supplement-stimulators) that are involved in the improvement of physiological mechanisms (mineral and water feed) and plant resistance (aerial and root systems) especially in tress conditions.
The implementation of an NSP (Nutrition and Stimulation Program) includes complementary products applied at specific stages for the 4 targeted actions:
Contact us for more information on the NSP
Find out about all the Frayssinet products for Golf