DEMANDING

« We commit our name and our reputation » Thierry and Romain Frayssinet
The strategic objectives are driven by the company's teams of men and women in liaison with the stakeholders and the sphere of influence. The relationship of trust established between stakeholders helps to improve all projects and actions on a day-to-day basis. CSR, through the movement it brings about, both internally and externally, is an undeniable lever for performance and efficiency.
More than ever, the plant production sectors are faced with a number of challenges: quality, economic, health, environmental and regulatory. Frayssinet's approach to its business combines agronomic science, environmental considerations and economic performance in a context where ethics are essential.
"Ethics must also be the basis for successful collaboration with staff, customers, suppliers and all organisations in the company's direct environment".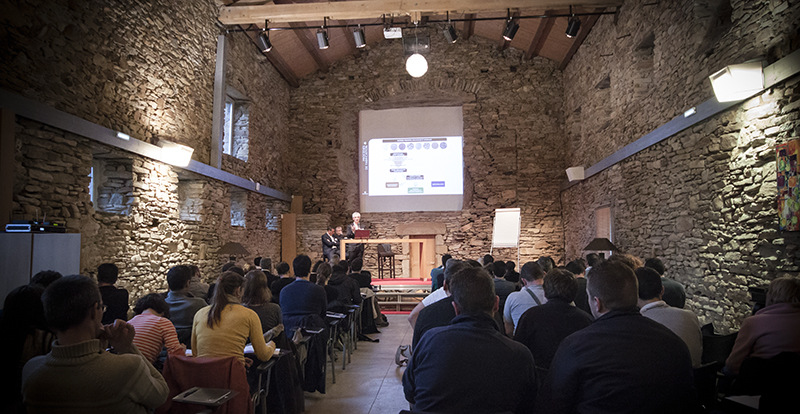 100%
of our distributors remain loyal to the brand

____

10 %

of employees in the Research and Quality department
____
63 %

of volumes transported
by suppliers from the Tarn or
neighbouring departments
Responsible Purchasing
Frayssinet's Responsible Purchasing policy is based on the principles of the social and solidarity economy, at the heart of current debates, which constitute a specific mode of enterprise, promoting a more robust growth strategy, richer in jobs, more sustainable and more socially just. Frayssinet guarantees a commitment from its suppliers to respect human rights, acceptable working conditions with regard to the health of their employees, the use of local human and material resources, a reduction in the environmental impact of their activities and a balance in business which must result in mutually beneficial exchanges
.
Responsible sales
The retail sector has a major responsibility towards its stakeholders. The sales department applies an ethical sales policy, respectful of the distributor, the user, the consumer and the environment. Frayssinet's regional managers advocate controlled application of the right product at the right time. This "Expert Attitude" is reinforced every year with at least one specific training session for each regional manager. Frayssinet is committed to 0% risk materials in production and marketing and rejects the use of sludge and urban waste (MIATE : Matières d'Intérêt Agronomique issues du Traitement des Eaux)
.
Ethics and regulation
Frayssinet is the only company in its field to have an ethics director and an engineer dedicated to regulation and standardisation. It accepts the role of "whistleblower" to protect its know-how, the health of living organisms and the natural heritage essential to the development of future generations.
Frayssinet participates in the technical committees of national trade associations (UNIFA, UPJ) to draw up quality charters and works with the Bureau de Normalisation bringing together professionals, administrations and scientists to optimise AFNOR regulations, which guarantee the required levels of effectiveness and safety of fertilisers placed on the market.
Frayssinet is a founding member of the European Consortium of the Organic based Fertilizer Industry (ECOFI). Recognised as a representative partner with 60% of the speciality market in Europe, ECOFI is actively involved in harmonising European legislation to ensure the fair and safe circulation of fertilisers. This commitment is part of the Europe 2020 Strategy.
Training new generations
Frayssinet sets up agronomic training courses designed to pass on the basics of understanding how the soil and organic matter work and to share Frayssinet's expertise in soil science and plant physiology in order to promote natural balances.
More than ever, the plant production sectors are faced with a number of challenges: quality, economics, health, the environment and regulations.
Testimonial
"As part of our commitment to sustainable development, taking ecological considerations into account in the management of agrosystems is a winning strategy for crop production that is totally linked to soil conservation. Dependent on climate and geology, the soil is largely modulated by its living organic component, biodiversity. The rhizosphere and drilosphere are complementary spheres of influence that need to be preserved in order to develop its agro-pedo-biological fertility. One of the main roles of scientists will be to develop appropriate eco-technologies that are accessible and compatible with these societal priorities. Daniel Cluzeau, Director of Research, Université de Rennes 1, UMR Ecosystèmes, Biodiversité, Evolution.

Download the Sustainable Development Report.
Previous page:  The "Environment" pillar of our CSR approach
Next page : The "Social" pillar of Frayssinet's CSR approach