Guillaume Lopez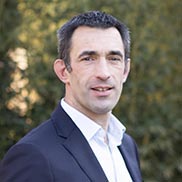 Interview Guillaume LOPEZ, since 2003 at Frayssinet.
Engineer in mechanical engineering, my first years as maintenance manager allowed me to familiarize myself with the production tool and men. I hold the position of Industrial Director for 2 years. I am in charge of the management of the production teams, the industrial and computer maintenance.
Our ISO 9001 quality model and our CSR ISO 26000 commitment have allowed us to formalize many of the practices that have become natural for us. The technicality of our industrial facilities and our computer equipment allow us to remain at the forefront of technology in terms of production capacity and safety. We are equipped with an ERP, software package used for our management control, accounting and the management of our manufacturing and maintenance orders. The investments regularly made, the optimization of our storage spaces and our planning tools allow us to have an annual production capacity of 100,000 tons. The ultimate goal: customer satisfaction.
Interview with Emmanuel ROUY, Quality & Environment Director
Back to interviews of managers